Recensione di "Black Poker" a cura di CD Bruce Lee Gallanter. Per "Downtown Music Gallery". - il:2019-01-05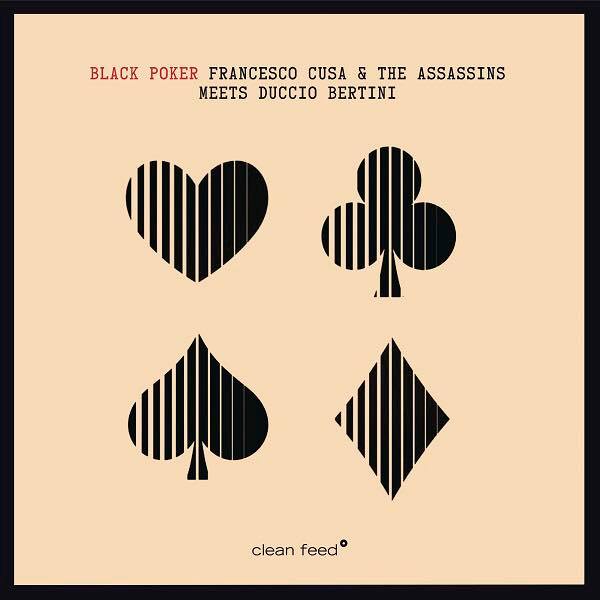 Recensione di "Black Poker" a cura di CD Bruce Lee Gallanter. Per "Downtown Music Gallery".| Clean Feed 504 | 15.00 |
Personnel: Francesco Cusa - Frank Usa - drums, The Assassins: Giulio Stermieri - Hammond, piano, Flavio Zanuttini -trumpet, electronics and Giovanni Benvenuti - tenor sax plus the Florence Art Quartet (a string quartet) and guest Duccio Bertini

"The ever in-demand Italian drummer, Francesco Cusa, turns up on more than two dozen discs from several recent labels: Auand, Improvvisatore Involontari, Amirani and now Clean Feed. Mr. Cusa is also a member of the Marco Cappelli's Italian Surf Academy. The only other musician here that I was previously familiar with is trumpeter Flavio Zanuttini, who has worked with Eugene Chadbourne and who has a recent trio disc out also on Clean Feed. Mr. Cusa wrote all but two songs here and a great job of integrating his quartet and the string quartet into a solid singular ensemble sound. The music is often stripped down to skeletal means, never busy or overdone. Each piece seems to evoke a different vibe, feeling or scene, as if we were watching a movie in which someone's life unfolds slowly. Instead of a stream of solos, there is a good deal of interweaving of themes and parts. Often both horn will swirl around one another on top while the keyboard (usually organ) and string quartet play the written material underneath. There is also quite a bit of unexpected twists and turns when the Assassins play a tight, complex well-written segment. There is nothing free of superfluous going on here, all of the music is integral to the ongoing tapestry/flow. Another incredible yet modest gem from the fine folks at Clean Feed". - Bruce Lee Gallanter.