Francesco Cusa & The Assassins "Black Poker", per la ReteDue della Radio Svizzera, a cura di Valerio Corzani. - il:2019-02-07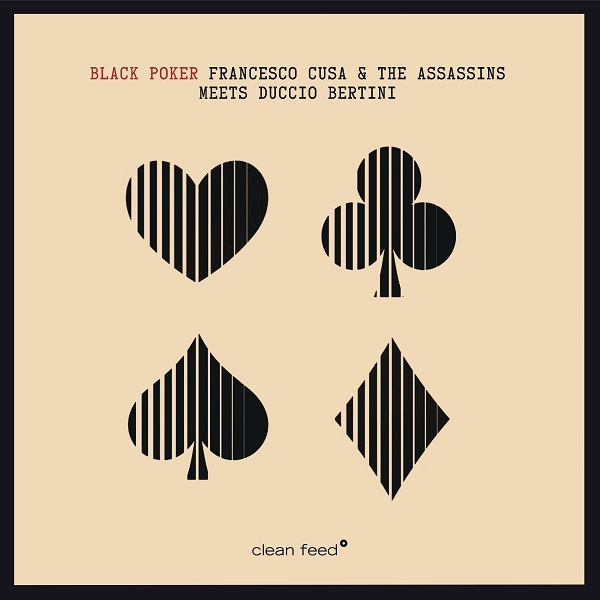 Raramente mi è capitato di essere così felice per uno speciale sui miei lavori, qui su ReteDue della Radio Svizzera. Mi sono anche emozionato, perché Valerio Corzani ha utilizzato parole molto belle, analizzando l'opera con una competenza e una capacità davvero rare nel panorama. Si parla di Francesco Cusa & The Assassins "Black Poker", da poco uscito per Cleanfeed. Tutto cio per la ReteDue della Radio Svizzera, con Giovanni Benvenuti Giulio Stermieri Flavio Zanuttini Duccio Bertini e il Florence Art Quartet. Ma anche delle mie recenti uscite letterarie per Algra editore e Libreria modo infoshop. Davvero grazie di cuore Valerio, bellissima recensione. PS: per ascoltare andare in basso al link che si apre.

https://www.rsi.ch/rete-due/programmi/cultura/la-recensione-di-sheherazade/La-Recensione-11320569.html?fbclid=IwAR0Heha6nvM_sN11PU5v7Fi9vyI4lWUHyoviZeprTa4wWnFKumBJHGoy038
WET CATS (Amirani Records)con Gianni Lenoci fra i dischi migliori del 2018 secondo Neri Pollastri per All about Jazz. - il:2019-01-30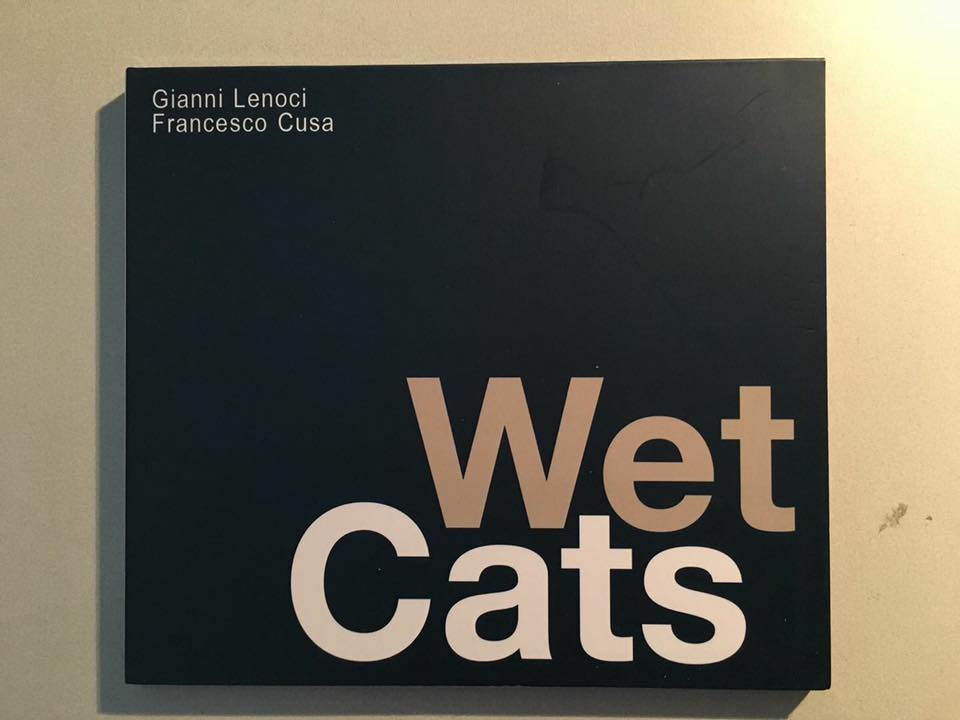 WET CATS (Amirani Records) con il master Uncle Gianni Lenoci fra i dischi migliori del 2018 secondo Neri Pollastri.
https://www.allaboutjazz.com/il-meglio-del-2018-secondo-neri-pollastri-by-neri-pollastri.php
RAI RADIO TRE: AZZFLIRT FESTIVAL Francesco Cusa & The Assassins "Rhythm Permutations" - il:2019-01-23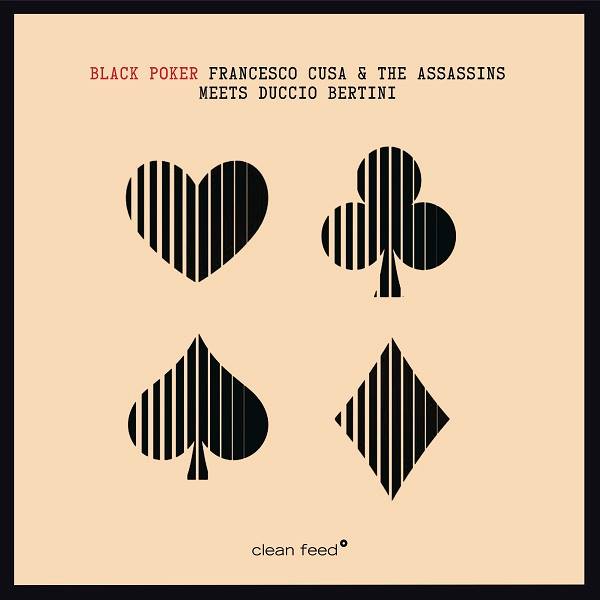 https://www.raiplayradio.it/articoli/2019/01/Jazzflirt-Festival-cc663437-1491-444e-a104-5e16828a1c16.html

lunedì 21 gennaio alle 20.30 | "Don Karate" e "Rhythm Permutations"
Jazzflirt Festival


JAZZFLIRT FESTIVAL

Francesco Cusa & The Assassins "Rhythm Permutations"

sax tenore, Giovanni Benvenuti
organo hammond, tastiere, Giulio Stermieri
batteria, Francesco Cusa
violino, voce, theremin, live electronics, Valeria Sturba



Recensione per Fc & The Assassins "Black Poker"per "Jazz PT", a firma di Gonçalo Falcão. - il:2019-01-22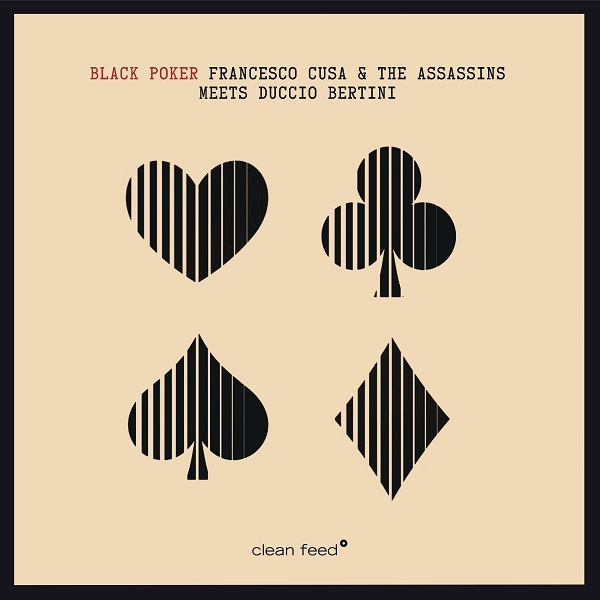 https://jazz.pt/ponto-escuta/2019/01/21/francesco-cusa-assassins-meets-duccio-bertini-black-poker-clean-feed/

Gonçalo Falcão

Iniziamo con le specifiche di questo gioco di poker: da un lato ci sono The Assassins, il quartetto jazz, e dall'altro il "Florence Art Quartet", un classico quartetto d'archi. A guidare la sessione è, a fianco degli Assassini, il suo batterista, Francesco Cusa, che scrive la musica e la suona in quartetto con piano, tromba e sassofono. Dall'altra parte c'è il pianista Duccio Bertini, che afferra il materiale scritto da Cusa e lo organizza per un quartetto di archi con due violini, viola e violoncello. Il risultato di questo complicato gioco è musica eccellente. A volte sembra che stiamo ascoltando la colonna sonora di un film nella migliore tradizione degli italiani (Morricone, Einaudi, Rota), con arrangiamenti densi e musica veloce e barocca, piena di eventi interessanti e soluzioni musicali. Uno "zapping" per vari ambienti, con il quartetto d'archi che interpreta arrangiamenti sofisticati e il jazz che suona le chitarre con un rigore classico e li lascia per improvvisazioni in cui i musicisti navigano facilmente senza rete. Le parole mostrano un sassofonista con un fraseggio veloce e melodico, ed è anche giusto evidenziare l'enorme delicatezza della batteria di Cusa, che ritma ma anche melodie.
C'è un sacco di scrivere e organizzare il lavoro e ogni secondo sembra essere stato attentamente pensato. La musica ha una densità di idee ed eventi rari nel jazz. Si installano e scompaiono molto rapidamente e ogni tema del disco ha - o sembra avere - 20 canzoni all'interno. Sebbene non ci sia il basso, l'organo Hammond e il violoncello forniscono questa mancanza e spesso abbiamo cicli seri con un funk. L'Italia ha dato lettere alla fine del 2018 con una serie di grandi dischi, la Radici Magiche, Flavio Zanuttini con l'Opacipapa e ora Cusa con gli Assassini e Duccio Bertini. Per coloro che non sono a conoscenza, non posso dire che non è stato avvertito".
Recensione del cd FCTrio "From Sun Ra to Donald Trump" uscito per Clean Feed su "Jazz'n More" a firma di Ruedi Ankli - il:2019-01-19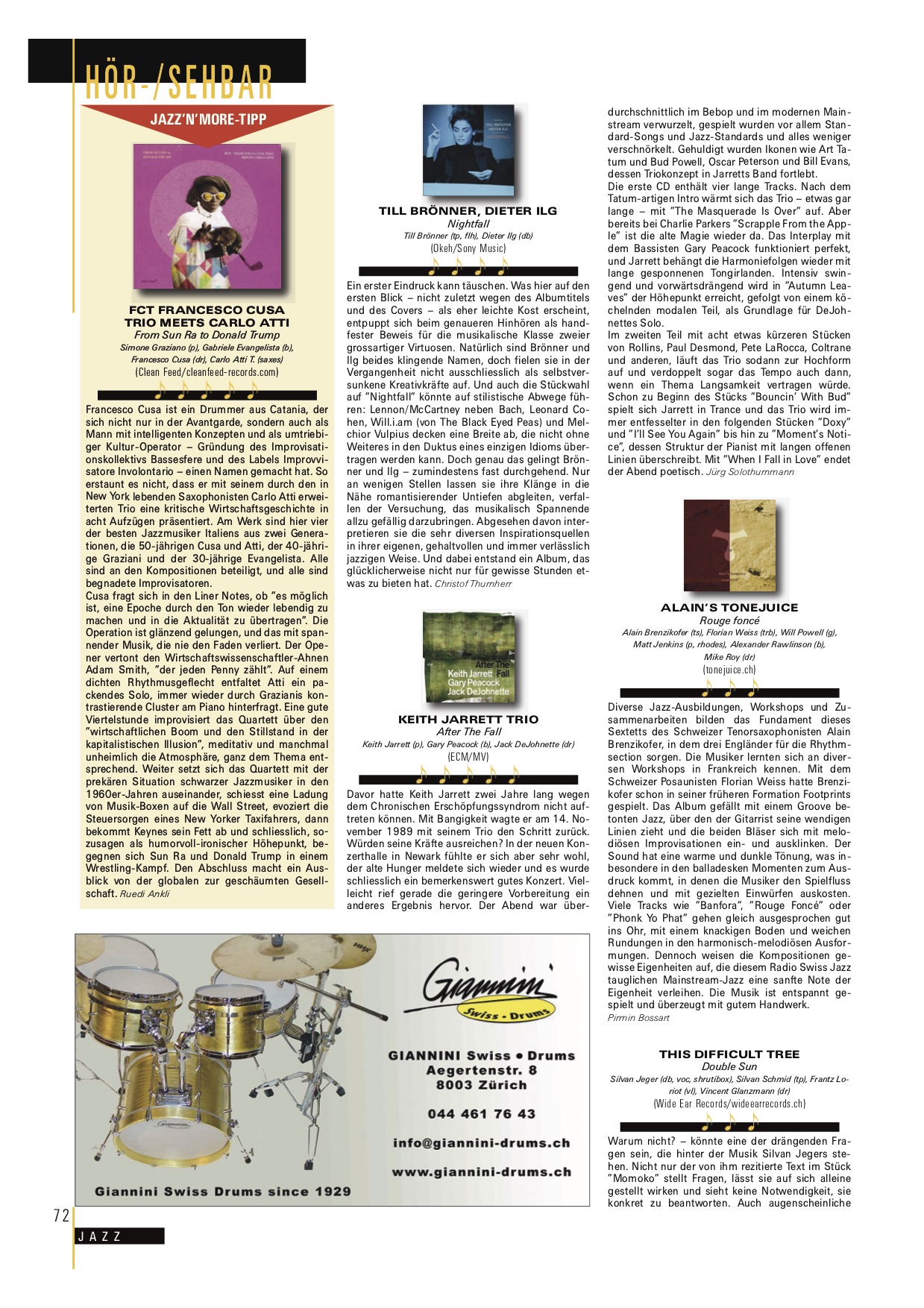 Recensione del cd FCTrio "From Sun Ra to Donald Trump" uscito per Clean Feed su "Jazz'n More" a firma di Ruedi Ankli (scelto come CD personale da mettere in evidenza, anche rispetto ai dischi di Jarrett :) ). Con Simone Graziano Gabriele Evangelista Carlo Atti Francesco Cusa. PS non conosco il tedesco, accontentiamoci della divertentissima traduzione di Google Translate. - Francesco Cusa è un batterista da Catania, che non solo è in avanguardia, ma anche come un uomo con i concetti intelligenti e come umtriebi- GER operatore culturale - ha fatto un nome - Fondazione dell'improvvisazione onskollektivs Bassesfere e l'etichetta Improvvi- satore Involontario , Quindi non sorprende che abbia presentato una storia economica critica in otto atti con il suo trio, che è stato ampliato dal sassofonista newyorkese Carlo Atti. Al lavoro, qui ci sono quattro dei migliori jazzisti italiani da due generazioni, il 50 anni Cusa e Atti, il 40-year-old Graziani e il 30-year-old Evangelista. Tutti sono coinvolti nelle composizioni e sono tutti dotati di improvvisatori.
Cusa si interroga nelle note di copertina, "se è possibile riportare in vita un'epoca attraverso il suono e aggiornarlo". L'operazione è riuscita brillantemente, con una musica eccitante che non perde mai il filo. L'opera stabilisce l'antenato dell'economista Adam Smith, "che conta ogni centesimo". Su una treccia ritmo stretto Atti svolge un PA- ADORABILE Solo, interrogato più volte da Graziani con- cluster trastierende al pianoforte. Un buon quarto d'ora improvvisato il Quartetto del "boom economico e la situazione di stallo nell'illusione capitalistico," l'atmosfera meditativa e talvolta inquietante, piuttosto di conseguenza il soggetto. Successivamente, le offerte quartetto con la precaria situazione di musicisti jazz nero nel 1960, spara una carica di carillon a Wall Street, evoca le preoccupazioni fiscali di un tassista di New York, poi Keynes ottiene il suo grasso, e, infine, per così dire come climax ironico e ironico, Sun Ra e Donald Trump si incontrano in una partita di wrestling. La conclusione è uno sguardo dalla società globale a quella espansa. (Ruedi Ankli)
Una mia intervista per l'"Urlo", a cura di Salvatore Massimo Fazio. - il:2019-01-10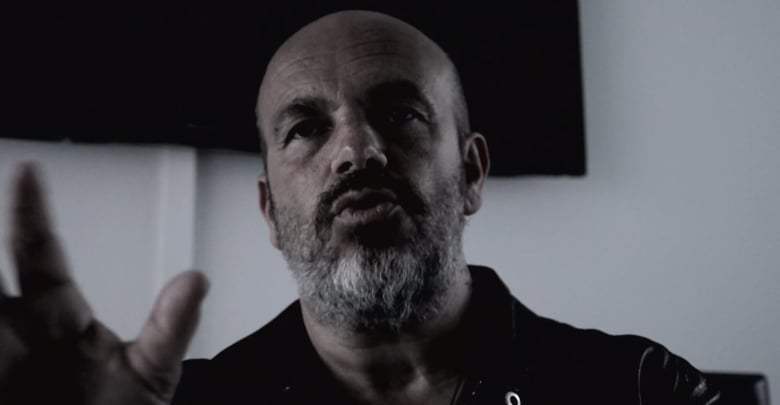 Quando va in scena con la parola esce fuori la stessa anima.

È Francesco Cusa, che si è votato alla scrittura con cui condivide la sua attività di musicista e docente al conservatorio. Domani alle h. 18:00 presso la Mondadori Book Store di Piazza Roma 18, a Catania, sarà presentata la sua ultima silloge dal titolo "Stimmate", pubblicato per Algra Editore.



Insieme a Giuseppe Carbone (nella foto di Melania Fortunato), per teatri e spazi culturali, propongono la performance "Molesta Crudeltà", un mix di musica e recitazione incentrata sui testi di Cusa. Carbone, filosofo, drammaturgo e attore catanese, recita in una dialettica con la "molestia" della percussività di Cusa, fatta di buste, tamburi e vari ammennicoli.

Due mesi a Catania, altri due a Bologna, poi altrove. Sempre così il suo andirivieni, da trentacinque anni a questa parte. Lo colgo velocemente, col vespino color arancia.
«In questo momento devo fare un pò di cose», insisto e provo a blindarlo qualche minuto. È fatta.



Perché Stimmate?
«Stimmate , pubblicato per Algra editore, è una raccolta di poesie, l'ideale prosieguo di Canti Strozzati, pubblicato lo scorso anno da Giulio Perrone. Esce in contemporanea con il libello di aforismi pubblicato dal circuito di librerie "Infoshop" di Bologna, (circuito prediletto dall'accademia bolognese n.d.r), dal titolo Amare dolci pillole. Una collana che mi vede insieme alle migliori menti dei miei anni universitari» – dice attraverso il casco.

Dunque due libri in un medesimo tempo, ispirati da cosa?
«Stimmate ha un contenuto allegorico. Sono stimmate catartiche, funzionali alla sublimazione dei personaggi».

Vi sono stati d'animo particolari a scrivere poesia, aforisma, romanzo?
«L'aforisma è diurno, esplosivo, dirompente. Può nascere da una diatriba sui social, a corredo di un commento sarcastico. La poesia è del mondo, è in ogni cosa, anche se per me trova espressione nei silenzi della notte. Quello è il momento in cui emergono gli arcipelaghi del simbolico. La notte è lo spazio del metalinguaggio, il territorio dell'intuizioni e delle essenze. È la via espressiva degli Antichi. Chi parla più 'poeticamente'? Tuttavia la poesia è in ogni dove, è il respiro stesso dell'esistenza, e in me si consuma nello spazio bruciante del minuto, spazio in cui trova corpo e senso il componimento».

Carmelo Andrea Bruno disse "Il poeta è Dio in terra", quanto di vero?

«Non saprei. Tra le forme di espressione, la poesia, è la più vicina all'aspetto del divino. Attiene al rito, all'iniziazione, alla celebrazione. Dio si esprime poeticamente nella parola e nella preghiera del fedele. E, in senso lato, ogni preghiera è poesia».




Hai dichiarato che "l'aforisma è il ritorno di Dio…


«L'ho mai detto? – ride. Poco importa. Nietzsche stesso, ebbe bisogno di scrivere idilli e aforismi, che furono necessari a dare spessore al suo magistero filosofico, in un certo senso, per completare e potenziare il 'messaggio'. la poesia è il calco del pre-linguistico, del tempo in cui uomini, animali e dei erano e riverberavano dei suoni del 'mondo'. L'alfabetizzazione degli ultimi millenni, in un certo senso, ridurrà la poesia a un non-Tutto, la comprimerà nella gabbia della scrittura».

Come mai la doppia pubblicazione?
«Mi sono accorto che la mia vita p diventata una sorta di contrappunto. Il mio metodo prevede la scrittura di una poesia al giorno, seguita da alcune pagine di racconti o di romanzo. È un metodo rigido ma necessario a fare quel che mi prefisso. Altrimenti non riuscirei a coniugare le mie varie ispirazioni».

Nell'obbrobrio socio consumistico, cosa non è poesia in assoluto?
«La poesia è il canto che si palesa tramite la parola orale e poi scritta, il mantra che attiva facoltà represse. La poesia è irrazionale, istintiva, e deve essere cesellata poco, altrimenti si trasforma nell'epistemologia di se stessa. Ciò che rende una poesia "vera" è il cortocircuito tra forma e contenuto. Visto che parliamo sempre di calcio io e te – per intenderci al volo – la Juventus è agli antipodi della poesia di Inter, Torino, Roma, Genoa ecc. È la catena di montaggio, il mantra reiterato dell'illuminato imbroglione che si fa crocchetta calcistica e costume».
Recensione di "Black Poker" a cura di CD Bruce Lee Gallanter. Per "Downtown Music Gallery". - il:2019-01-05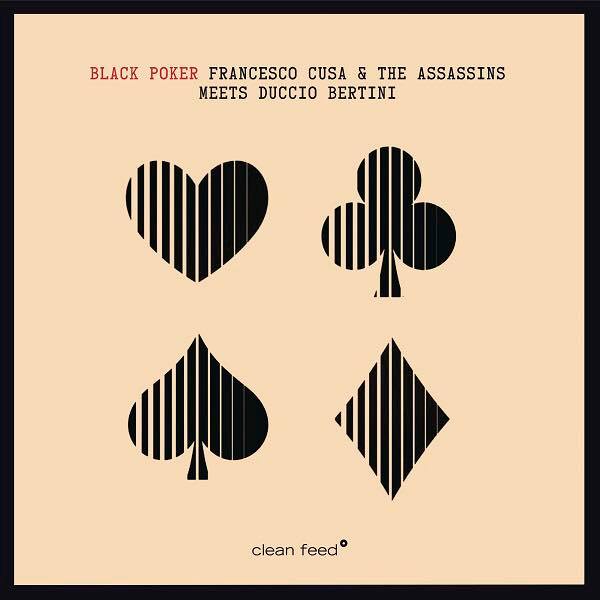 Recensione di "Black Poker" a cura di CD Bruce Lee Gallanter. Per "Downtown Music Gallery".| Clean Feed 504 | 15.00 |
Personnel: Francesco Cusa - Frank Usa - drums, The Assassins: Giulio Stermieri - Hammond, piano, Flavio Zanuttini -trumpet, electronics and Giovanni Benvenuti - tenor sax plus the Florence Art Quartet (a string quartet) and guest Duccio Bertini

"The ever in-demand Italian drummer, Francesco Cusa, turns up on more than two dozen discs from several recent labels: Auand, Improvvisatore Involontari, Amirani and now Clean Feed. Mr. Cusa is also a member of the Marco Cappelli's Italian Surf Academy. The only other musician here that I was previously familiar with is trumpeter Flavio Zanuttini, who has worked with Eugene Chadbourne and who has a recent trio disc out also on Clean Feed. Mr. Cusa wrote all but two songs here and a great job of integrating his quartet and the string quartet into a solid singular ensemble sound. The music is often stripped down to skeletal means, never busy or overdone. Each piece seems to evoke a different vibe, feeling or scene, as if we were watching a movie in which someone's life unfolds slowly. Instead of a stream of solos, there is a good deal of interweaving of themes and parts. Often both horn will swirl around one another on top while the keyboard (usually organ) and string quartet play the written material underneath. There is also quite a bit of unexpected twists and turns when the Assassins play a tight, complex well-written segment. There is nothing free of superfluous going on here, all of the music is integral to the ongoing tapestry/flow. Another incredible yet modest gem from the fine folks at Clean Feed". - Bruce Lee Gallanter.
Bruce Lee Gallanter su SKRUNCH/LACAN GIRLS: "Psicopatologia Del Serial Killer" (cd esaurito). - il:2019-01-05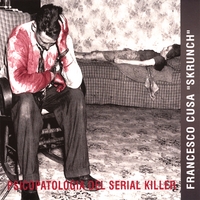 Bruce Lee Gallanter su SKRUNCH/LACAN GIRLS: "Psicopatologia Del Serial Killer" (cd esaurito).
Featuring Carlo Carlo H. Natoli on baritone guitar & electronics, Paolo Sorge on guitar, Tony Cattano on trombone, Gaetano Gaetano Joz Santoro on tenor sax and Francesco Cusa on drums & compositions. Quite a strange concept for an avant/jazz disc titled "Psychopathology of a Serial Killer". The cover features a man sitting in a chair, handcuffed, looking down and distraught, his head in hand and his shirt splattered with blood. The woman lieing down behind him on the bed might just be dead or sleeping. There are also four actors (three serial killers and the dead woman) involved and the autobiography of Frank Zappa is mentioned as an inspiration. Hmmm, what a set-up!?! The opening piece features some spooky whispering and creepy samples. "Blatta" features a great M-Base groove with the slamming drums of Francesco Cusa at the center and a fine, spiky guitar solo from Paolo Sorge. Carlo samples an eerie music box on "Nonsense" with more creepy whispering. I dig the sly tenor and trombone harmonies over that infectious groove. Since there is no bassist, the baritone guitarist seems to take this role, playing those great repeating grooves. Mr. Cusa does a great job of composing these twisted, complex rhythms that give the soloists a chance to sketch out and take inspired solos, especially the tenor sax and trombone. Guitarist Paolo Sorge, who also has his own fine CD out on this same label, plays a series of tight and intricate riffs that make the rhythm team sound even better. The voices of the actors are used minimally yet most effectively, the detective story music adding to their collective and ongoing tale. The music does a great job of evoking a eries of scene from this imaginary film. A movie for you mind?!? Yes, indeed. - BLG
Recensione di Bruce Lee Gallanter per il CD "L'Arte Della Guerra" registrato con SKRUNCH/LACAN GIRLS - il:2019-01-05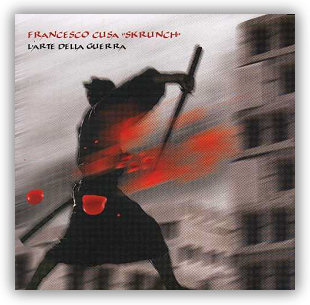 recensione di Bruce Lee Gallanter per il CD "L'Arte Della Guerra" registrato con SKRUNCH/LACAN GIRLS (Di questo ho ancora qualche copia, per chi la desiderasse). - Again, Cusa has written some strong, tight, complex and exciting music.
- I love the way Francesco always has a few different lines moving around one another simultaneously.
- I found that this disc is the best of the bunch that I just reviewed, it is outstanding throughout on various levels. Time to get some more copies from Marco Cappelli, since I know that we will sell out sometime very soon.

Second great disc by drummer/composer Francesco Cusa and his band "Skrunch" who consist of Paolo Sorge on guitar, Carlo Carlo H. Natoli on baritone guitar, Tony Cattano on trombone, Beppe Scardino on bar.i sax and Riccardo Pittau on trumpet and Dario De Filippo on percussion. The introduction and conclusion of this CD features a serious sounding spoken word male voice, spoken in Italian. "Again, Cusa has written some strong, tight, complex and exciting music. "Afrodionisiaco" has layers on interconnected lines going on simultaneously. While the rhythm team of baritone guitar, percussion & drums play their intricate line, the three horns swirl intensely around them and Paolo Sorge takes an amazing guitar solo. "Escape from Pussyland" features just the three horns playing tightly together at the beginning, soon the rhythm section re-enters with more complex guitar lines woven within the layers of lines. I love the way Francesco always has a few different lines moving around one another simultaneously. Guitarist Paolo Sorge is consistently inspired throughout, taking great solos and playing his intricate parts just right. His own disc on this label is good but he gets a chance to shine on this disc in particular. You just have to dig that great hypnotic repeating line that he plays on "Quel Giorno", which features some superb trombone and bari sax solos. I found that this disc is the best of the bunch that I just reviewed, it is outstanding throughout on various levels. Time to get some more copies from Marco cappelli, since I know that we will sell out sometime very soon. - BLG Cover Raffaella Piccolo
Recensione di qualche anno fa di Bruce Lee Gallanter a proposito di "Jacques Lacan, A True Musical Story" - il:2019-01-05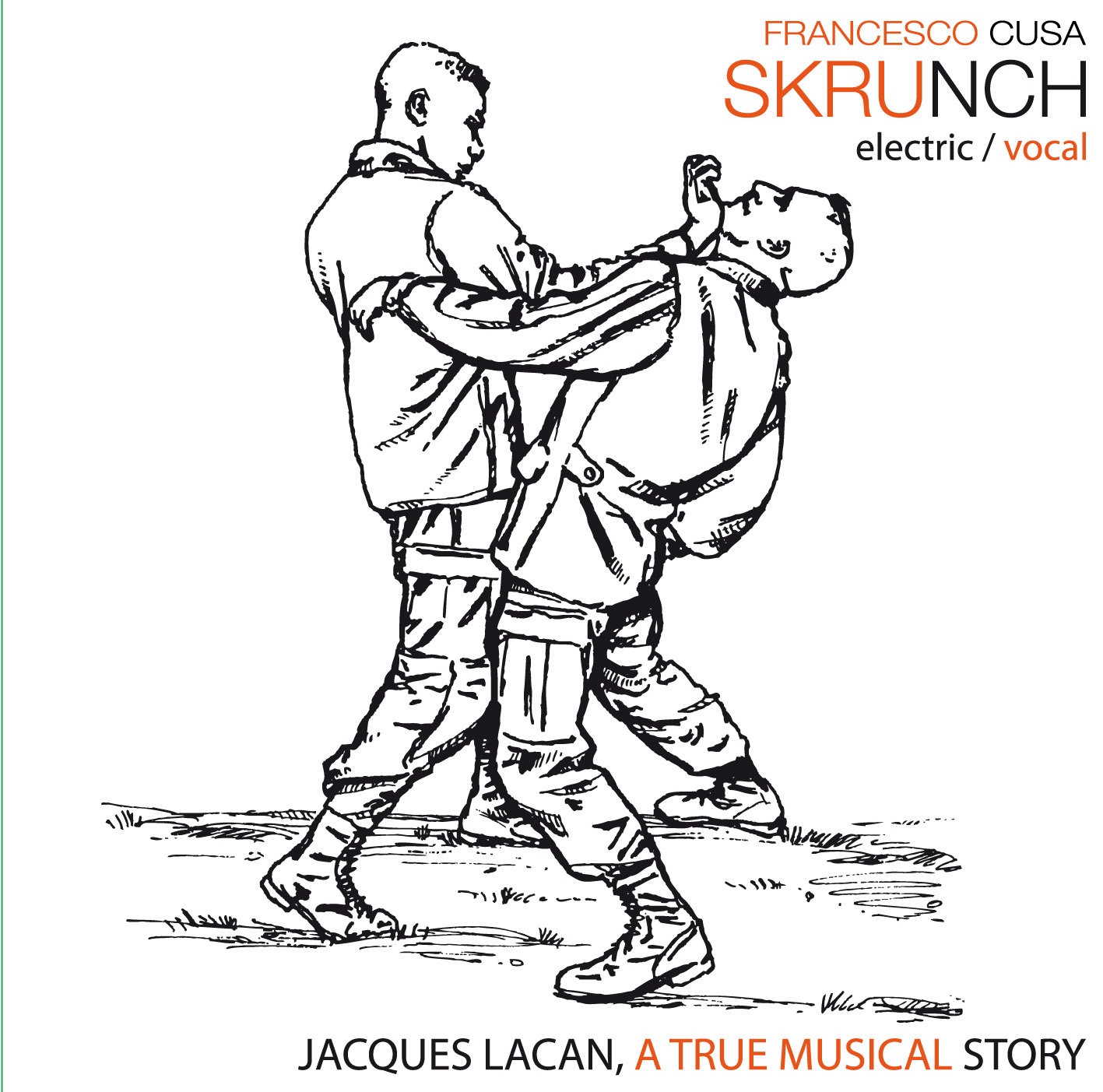 recensione di qualche anno fa di Bruce Lee Gallanter a proposito di "Jacques Lacan, A True Musical Story" il cd uscito anni fa e oramai introvabile. FC SKRUNCH/LACAN GIRLS: Paolo Sorge, Carlo Carlo H. Natoli, Giacomo Ancillotto - electric guitars, Piero Bittolo Bon & Beppe Scardino on saxes, Marta Raviglia & Gaia Mattiuzzii - voice & electronics and Francesco Cusa & Dario De Filippo on drums & percussion. Drummer Francesco Cusa is one of the most visible members of this scene and can be found on more than a dozen discs on the Auand, Clean Feed & Amirani labels. This is his third disc on the II label with his band Skrunch. This disc tells a story about a character named Jacques Lacan with two different versions of Skrunch, an electric and a vocal version, each version palys the same four pieces. The electric or instrumental version features a group with two guitars, two saxes & two percussionists. The sound is old school jazz rock with a conga player added but never played too quickly. Cusa's spirited drumming is at the center of each piece as he directs the ensemble. Both saxes & the electric guitar get chances to solo but it is often the full ensemble (writing) that is the most interesting. The cover drawing shows two soldiers in hand-to-hand combat as does the couple of drawings inside. Not sure what this has to do with the music though. The fourth track is an odd sort-of avant-funk song that is tight, speeds up and erupts into a fractured conclusion. The vocal version of these pieces sounds more like punk-rock with layers of twisted vocals, both women and men singing and screaming. The vocals seem to have replaced the saxes although the guitars are still there. I dig the way the vocals are utilized, rarely if ever singing any words yet they are still expressive and layered in complex ways. This is a most ambitious project that will probably take some time to fully absorb. - Bruce Lee Gallanter, Downtown Music Gallery